Winter Start on Cottage Screw Pile Installations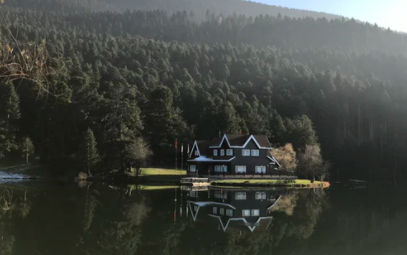 We love our cottages and lakefronts so much. Anyone will tell you of the most memorable experiences as a child were near a lake or at a family cottage compound.
Recently we told you about all the reasons an early start on your summer patio and back deck plans makes great sense. Maybe your plans go beyond a new or expanded deck, maybe you and your family are thinking a little bigger; a guesthouse on your property, maybe a new cottage or an addition at the lake property, or a boat house to store all the summer toys.
Winter Postech screw pile installations for a dwelling are as simple as winter installations for patio or a back deck, even when ice is still on the lake. Even if nasty winds blow in a big dump of snow before work is scheduled, our installers are winter proofed and actually really love a thick layer of snow insulation that keeps the frost level closer to the surface.
We have a lot of challenging terrain in western Canada, and Postech Austin and Yorkton are up to that challenge. Cottage properties can sit on tricky outcroppings with a great view, beautiful beachfront locations often see sandy till far from the shoreline, where the cottage wants to be and where traditional concrete pilings would be less reliable. Postech technology can accommodate these challenges with confidence.
The incredible views from rocky outcroppings often have presented challenges to builders, especially in securing a foundation. But that view!! Thankfully we're a really ingenious gang at Postech and have figured out solutions to some very challenging and quirky projects (stay tuned for that blog!). We have developed a unique technology that will safely install our Screw piles into the worst the Canadian Shield, and all the areas beyond can offer, so your view of the sunset over the lake will be perfect.
Gorgeous beachfront properties are abundant in Manitoba and Saskatchewan and are actually some of our favourite landscapes to work on. Sandy till can offer significant long term problems with concrete footings and shifting. Postech addressed these situations with a scientific approach and has developed a soil analysis system unique to Postech, where we assess soil quality to determine the best foundation for that project and what the life cycle of that soil will be. You and your property could not be safer after we secure it!
If you want to get going on a summer project, there is no better time than now! There is nothing stopping any of our professional installers from digging and dropping the screw piles for your secure foundation at any time during the year. We do ask them to stop working after -20º even if they think they don't need to!
Winter installations are a great way to get ahead of the game for when the weather warms up and other trades are ready to go. Trades can begin work on the same day as Postech does, weather permitting, or anytime immediately after that.
Cottages are a great place for families to gather and memories to be made. Make sure your cottage and property are secured for all the family gatherings for years and years to come. Get in touch with us soon and discover all the benefits of a winter start on your summer project!