Learn about our simple, straight-forward process.
General Projects
A Day in the Life of Firm Foundations Installers
What we call our General Projects, the residential and commercial work we do on a regular basis, cover as many projects as there are ideas. While our system and the hardware we use is really pretty straightforward, the number of uses for our helical screw pile system is limitless. For residential and commercial projects, we have the experience, knowledge and proven track record to launch any sized project from the ground up.
Call us to get started on your next project!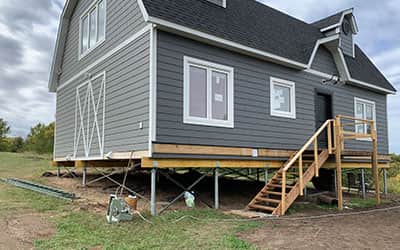 When you're ready to build, we're ready to go! If you're thinking about building your dream custom home, cottage, tiny home or cabin, we will get that project started on solid ground.
Your first stop when planning an extension or sunroom or is Screw Pile Solutions. Our crew's process has minimal impact on your day to day activities, and in no time you will be enjoying your new space.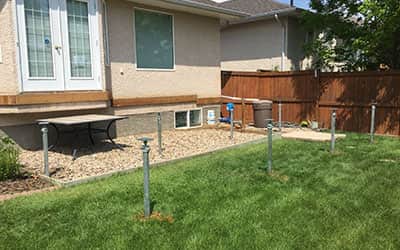 Winter takes up a lot of time in Canada, and we're here to create a foundation design that will anchor your new deck extension, enclosed patio or home greenhouse to enjoy year round. And, we can install anytime of the year, in all seasons.
When your warm weather plans bring you to the waterfront, our specialized soil analysis system will anchor your gazebo, dock or boathouse firmly and securely, on footings to last a lifetime.
Our Prairie surroundings are dotted with iconic views of agricultural equipment and structures. Builders know that Screw Pile Solutions stands above in installing screw pile foundations with engineered load capacity to anchor grain elevators, product transfer stations and weigh stations.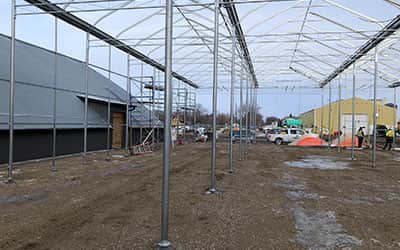 Did we mention that winter takes up a lot of time in Canada? Screw Pile Solutions is teaming up with innovators building greenhouse operations to cultivate a year round supply of produce to healthy Canadians.
Our guaranteed load capacity technology makes Screw Pile Solutions the first choice in warehouse and storage facility construction in our region and beyond.