About Screw Pile Solutions
SERVING MANITOBA AND SASKATCHEWAN
You could call our Founder, Ed Heppner, dynamic and solid. He constructed Screw Pile Solutions Ltd, to be just that; a service people can rely on to be inventive and innovative, and at the same time solid in their promise of a job well done.
Ed Heppner was introduced to Helical Screw Piles as an alternative to concrete piles while working with an construction engineer near Austin, Manitoba and soon realized that screw piles were a solid, practical and efficient option for varying types of soils and cause minimal damage to the property in the installation process.
After launching Firm Foundations for You Inc. in 2010, Ed and his dedicated team of installers have successfully completed installation of 1000's of screw piles in many applications across Western Manitoba. Screw piles have been installed for use under modular homes and under grade beams, garages, decks, gazebos, cottages, and in commercial applications. 
In 2022, following a change in corporate structure, Firm Foundations for You Inc. rebranded as Screw Pile Solutions Ltd.  and continues to deliver the same process, same service, same customer focus.
A proud member of his community, Ed has stepped away from his role in the company after being elected Mayor for the municipal region, and Chad Bodnarchuk has taken the reins in the management of Screw Pile Solutions. Under Chad's leadership, Screw Pile Solutions continues to grow, improve operations and move into territories beyond central Manitoba.

From the first call through to completion, Screw Pile Solutions Ltd. will work with you on budget, design, timeline, installation and site completion. We have a firm commitment to keeping our customers involved and up to date on all matters concerning their project or their home. Every project follows a detailed, step by step journey to ensure a job well done that will last a lifetime. Or two.

1. Initial Call
We'll hop on a call to discuss screw piles and if we're the right fit for your project.

2. Discovery Process
We discuss a plan making sure helical piles is the right solution. Then, review engineered plans (if applicable).

3. Budget Process
Assess all financial aspects of the project to prepare a detailed, comprehensive budget

4. Budget Approval
After any questions or concerns are covered, your approval of the budget gets the gears in motion.

5. Schedule Installation Date
A pile layout drawing for the installation crew is created. Then, we'll determine the best time to begin the project.

6. Installation
When our crew wraps up, the appropriate connection heads to build on will be ready for trades to begin.

7. No Down Time
There is no down time after the installation is complete, your Screw Pile Solutions foundation is ready to be built on immediately.

8. Invoice & Documentation
The site is released and invoice is issued. A Pile Load Report and detailed copy of the pile layout drawing referencing pile load report is included with your building inspection package.

9. Rest & Relax
Rest easy knowing your project is off to a solid start.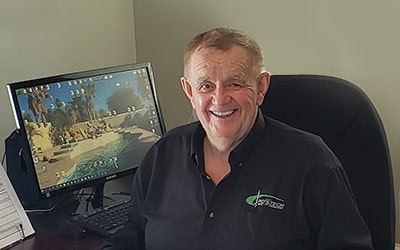 Mr. Heppner is proud to be the founder of Screw Pile Solutions Ltd. and has served many customers in Western Manitoba. Ed is a member of Austin and District Chamber of Commerce and loves to see progress in his community and in the entire region.
Ed, along with his wife Esther, have three daughters, two son-in-laws, and four grandchildren. Ed likes to keep the attitude that 'Life is Full, Life is Good", to enjoy life and to celebrate it.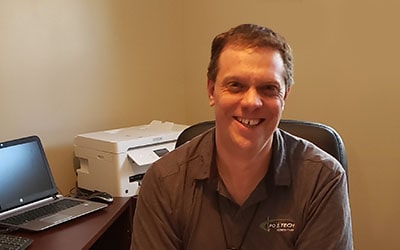 Chad has been with Screw Pile Solutions, for the last 5 years, building on his extensive career in business and management.  Chad is the kind of guy who is constantly working "on" the business, rather than "in" the business, and continually strives to make sure Screw Pile Solutions grows and improves. Chad brings a background in finance and strategic planning to Screw Pile Solutions, as well as many years of working with the public. He believes that growth comes from collaborating with great people and focuses on bringing great people together.
Chad along with his wife Marie have young twins, a boy and a girl, that keep them on their toes! Chad maintains that if it is not broken, we're not looking hard enough. We think with twins, he doesn't have to look too far.
Why screw piles?
We could ask, why not screw piles, but we just couldn't think of a project we couldn't do. When we compare concrete piles to screw piles, it's clear that helical screw piles stack up and out preform concrete; there is very little Screw Pile Solutions can't do.
There are countless advantages to using helical screw piles over concrete piles, especially when building on difficult terrain or into frost levels. The porous concrete is highly susceptible to absorbing moisture, and heaves as it freezes and thaws, causing costly damage. Concrete piles installed under unheated structures like decks or extensions, or if situated outside a heated space easily become frost effected, putting the entire foundation at risk.
When considering projects for yard or garden, our process is not only time trusted, but it does not disrupt your life. Equipment used when installing screw piles is non-invasive when compared to heavy concrete equipment, so there is minimal down time for the backyard enthusiast. 
Screw Pile Solutions has as many advantages in larger commercial builds as in residential. Helical piles are what is needed for larger structures like new homes, modular or Ready to Move homes, as well as warehouses and commercial greenhouses. As our screw piles spiral down to and beyond the frost line, they support and anchor at greater weight loads and maintain razor sharp angles from grade to roof top.
Rely on the technology of screw piles and the expertise of Screw Pile Solutions Ltd. to ensure your project of any size or purpose starts with a solid foundation.
How long can a screw pile house foundation last?
A screw pile house foundation will last the lifetime of the structure. The helical design of our screw piles stops any shifting or settling.
How do you build a house on pillars?
New home builds are one of our specialties. We work extensively with home builders and developers who know the quality of our work and are confident including our workmanship in their client's project. Prefab, Ready to Move or custom builds all start with solid footings, ready for trades to come in immediately and get to work.
How do you raise a sinking concrete porch?
Once a concrete patio starts to heave and crack, we know that the footings under it have started to shift likely due to frost heaving. Depending on the severity of the sinking, we would raise the slab onto girders, install screw piles at all critical weigh bearing points, then lower the concrete back onto its new secure foundation.
How do you stabilize a deck?
Decks situated on concrete footings will be susceptible to the same conditions as a concrete patio and will quickly become unsafe. Temporary studs lift the deck while screw piles are installed underneath, then adjusted for the deck to be lowered and remain completely level.
How do you put a foundation in solid rock?
We have developed a unique technology that will safely install our screw piles into the worst the Canadian Shield, and surrounding areas can offer. The rock does not chip away around the piles and will remain solid for the life of the structure.
How do you stop a foundation from shifting in sandy soil?
Screw Pile Solutions addressed these situations with a scientific approach and has developed a soil analysis system unique to us, where we assess soil quality to determine the best foundation for that project and what the life cycle of that soil will be. You and your property could not be safer after we secure it!
Can you install a foundation in the winter?
Screw Pile Solutions installers are suited up for work to -20º and can operate under all sorts of conditions. Our equipment is geared to drill through frozen ground to a secure footing, and ground shifting is not an issue as Screw Pile Solutions piles are designed to allow soil to frost heave around the pile without the pile moving. With this in mind you can be ready for other trades to hit the ground running as soon as warm weather returns. 
How quickly can trades get to work after Screw Pile Solutions has wrapped up?
Immediately. Yup, as soon as you see our installers loading you, other trades are good to go. There's no downtime at all.
How much does a pile cost?
Screw piles are the affordable solution to your foundation requirements. However, it is difficult to determine an exact cost since several factors must be taken into account: The structure to be supported, type of soil, length, region, etc. Contact us for more details. We will be pleased to provide you with a price that includes the installation cost.
Can a pile be installed in rock?
Yes, Screw Pile Solutions has developed a simple method that allows the anchoring of the pile to bedrock permanently.
Can the piles be installed under an existing structure?
Yes, it is possible to install the piles under an existing structure. However, the proposed location of the piles must be relatively close to the edge of the structure. If the piles are to be installed in the middle of a structure, there needs to be access to allow the piles to be installed. For example, in the case of a wood patio, the customer may remove some floorboards to allow installation of the piles in a precise location.
Have performance tests been completed on piles used by Screw Pile Solutions?
Absolutely, our screw piles have been tested using many required and vigorous industry standards (see section Technical Information) and are approved by the Canadian Construction Materials Centre (CCMC #13102-R). This organization is responsible for the evaluation and approval of all products that are recognized as construction materials in Canada. What this means is that our screw piles meet high quality standards. For your protection it is very important to use piles that have been tested and approved by the CCMC. In fact, most local and state governments, as well as insurance companies request it.
My driveway has an asphalt surface, and I want to build a carport. Can screw piles be used?
Yes, it's possible. Cutting holes in the asphalt might be needed in the location where the pile will be installed. Afterwards, a slight touch-up of the asphalt around the pile will be needed.
My property has a slope, can you still install piles?
Absolutely! It's one of our super powers. We have installed in almost all types of terrain. Contact us and we'll determine what specialized equipment is needed for your specific project.
Is a warranty offered?
Yes! All our piles are guaranteed against manufacturing defects. In addition, your certified installer provides an installation warranty against movements due to frost.