Learn about our simple, straight-forward process.
Special Projects
Days When Our Crew Is Even More Outstanding
Beyond our general projects we are asked to work on some more challenging endeavours; operations where Screw Pile Solutions special project ingenuity really comes to the surface. We rescue crumbling foundations, remedy improperly built new structures, and revive aging heritage homes. 
Call us to get started on your next project!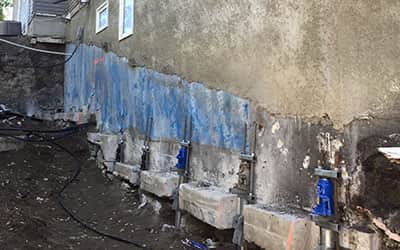 Underpinning & Foundation Support
Underpinning is the process of strengthening the foundation of an existing structure weakened by erosion, flood, root systems or poor design. Screw Pile Solutions remedies these situations by reinforcing the existing foundation to distribute the load over a greater surface area, providing lasting stability. 
Structure Realignment & Repair
A compromised foundation will knock your home or building out of alignment, causing interior cracking and roof damage. This is especially relevant in heritage homes or older cabins on shifting ground.
With our superior system of house raising, we support the sagging foundation, with very little disruption, to ensure your structure remains true for years to come.
Modular & Ready to Move Homes
Prefabricated, mobile or modular homes are a cost-effective solution to building a home. These styles of homes are no different than any other with the need of a solid, lasting. The premier efficient and cost-effective solution continues to be Screw Pile Solutions. 
More aggressive methods are needed when a foundation is beyond repair. In these cases, Screw Pile Solutions engage a team of local contractors to lift the building, resting it on girders while our crew and excavators remove the original foundation and install a foundation system for the building to be lowered back onto, safely and soundly, and to last.